Creative expression activities are wonderful ways to manage and reduce stress. It allows you to engage in something productive. When you complete an art project or craft the brain releases a chemical called dopamine which makes you feel good. When you focus on activities like colouring, drawing, painting, gardening, or dancing you are actually being in the moment. It is like meditation! It slows your breathing and pulse, reduces stress and makes you happier!
This week we're sharing some great resources for creative expression as a strategy for stress management. If you haven't yet, check out our post from last week on the first core strategy for managing stress!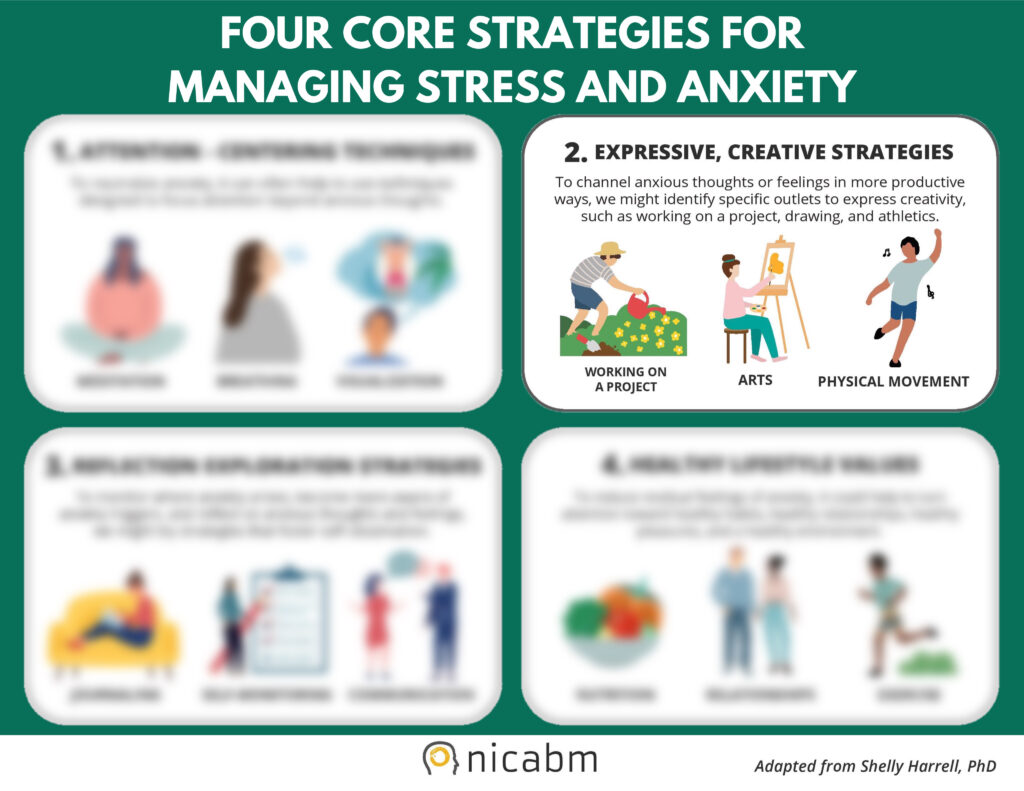 Creative projects come in all shapes and sizes and are really based on what you enjoy. From arts and crafts to unexpected at home creative projects, there is really something for everyone. You can be creative about your daily hair style or outfit. Or take a dance class that you've always wanted to try. The sky is the limit!
Read more about how creativity helps more than just reduce stress.
Here are some more creative stress management activities to get you started:
At Home Ideas
You don't have to take an art class or go anywhere special to get creative. Try starting with what you have right in front of you. For example, you can plan a project around a small decorating idea for your room or a home improvement project. You can get a small planter and arrange a few plants or redo your balcony or front garden. Build a bird house from a kit or plan to create your own table, chair or wall unit. Create a new menu with new foods or recipes based on themes, colours or your favourite foods. Or you can try some of these:
DIY Room Decor! | Dollar Tree DIY Home Decor Ideas
Learn to make your own easy and affordable home decor in this video.
Create a tiny garden
Create your own tiny garden in no time with this quick and easy step-by-step tutorial!
Arts & Crafts
Imagine getting cozy with your favourite tea, a fresh box of pencil crayons and newly purchased colouring book. Do you remember spending hours as a child making drawings or mixing paints? Let your inner child smile as you explore some of these relaxing and engaging arts and crafts below:
20 EASY DRAWING IDEAS THAT ANYONE CAN DO
Whether you're a beginner, intermediate, advanced, or professional artist… these ideas are meant to give you a burst of inspiration while having fun!
Glowing Night | Easy & Simple Acrylic Painting Step by Step for Beginners on Canvas
Learn how to paint an easy landscape with reflection during the night time with a glowing effect using metallic acrylic paint.
Free Adult Coloring Pages: Detailed Printable Coloring Pages for Grown-Ups — Art is Fun
Free adult coloring pages to print and color featuring the detailed art of Thaneeya McArdle, published coloring book artist. These printable coloring pages for grown-ups are the perfect anti-stress art therapy!
www.art-is-fun.com
4 Ways to Get Creative with a Tiny Wardrobe – Be More with Less
Editor's note: I am happy to introduce a new contributor for project333.com. Meet Erin! She is lovely and talented and really gets dressing with less. We met after I watched this video shown above that she created. She even illustrates her capsule collection. I hope you enjoy Erin's first article as…
bemorewithless.com
Creative Movement
Sometimes you just need to dance it out! Creative movement is a great way to express deep emotions, let go of frustration, and just have fun. You can dance alone in your room to your favourite tunes, or take a class and meet new people. From contemporary to folkloric or traditional dances, creative movement connects us to culture and our inner life and is a wonderful way to destress, be in the moment, and have fun!
Can't Stop The Feeling Music Video
When we first went into lockdown, this song was a favourite during our Zoom meetings. This song will get you on your feet for sure!
AFRICAN DANCE WORKOUT 20 min (FUN!!) | Afrifitness | No equipment
This one is full of popular current afrobeats songs – so the music will get you in the mood while you're working up a serious sweat!
Having a hard time choosing? Let you instinct guide you. Let yourself be curious and try something that excites you. We wish you a wonderful creative journey ahead!
*If you need immediate support around anxiety or excessive stress, please refer to our recent post.*
Thanks for reading our post! The Workplace Wellness Blog is here to share tips and resources to help you be the best you can be for yourself, your social circle, and your home and work community!
Found this post helpful? Subscribe down below to be notified each time we share a new post!